Swiftcom Technology Pte Ltd is a Singapore-based company that specializes in the distribution, rental, and servicing of two-way radio communication devices and systems. The company was established in 2010 and has since grown to become a leading provider of communication solutions in Singapore and the surrounding region.
Swiftcom Technology offers a wide range of communication products, including walkie talkies, two-way radios, repeaters, and related accessories. The company works with leading brands in the industry, including Motorola, Hytera, Kenwood, and Icom, among others.
In addition to product sales, Swiftcom Technology also provides rental services for short-term and long-term communication needs. The company's rental services are flexible and customizable, making it easy for customers to find a communication solution that fits their specific requirements.
Swiftcom Technology is committed to providing high-quality products and services to its customers, and the company's team of experienced professionals is dedicated to delivering excellent customer support and technical assistance.
Overall, Swiftcom Technology Pte Ltd is a reliable and trusted provider of communication solutions in Singapore and beyond, and the company's commitment to quality and customer service has helped it to establish a strong reputation in the industry.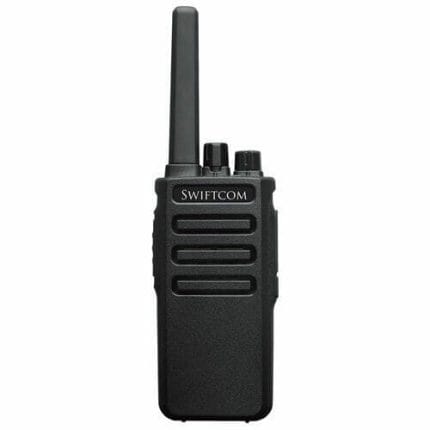 The Swiftcom SC-F1 PMR446 License Free UHF Analog Walkie Talkie is a compact and lightweight communication device designed for reliable communication over short distances. It operates on UHF frequencies and requires no license to use, making it an ideal choice for casual or recreational use. The device features a control buttons, and an antenna, and provides clear and efficient communication for families, outdoor enthusiasts, or small businesses.